If you've just upgraded yourself from the minimalist tent camping but not yet graduated to the mega RV stage, then tiny camping rigs might be the only ticket to your outdoor adventure, hopefully, you will hit mega RV stage in future. For now, these tiny camping ideas might interest you.
1. Mini Camper idea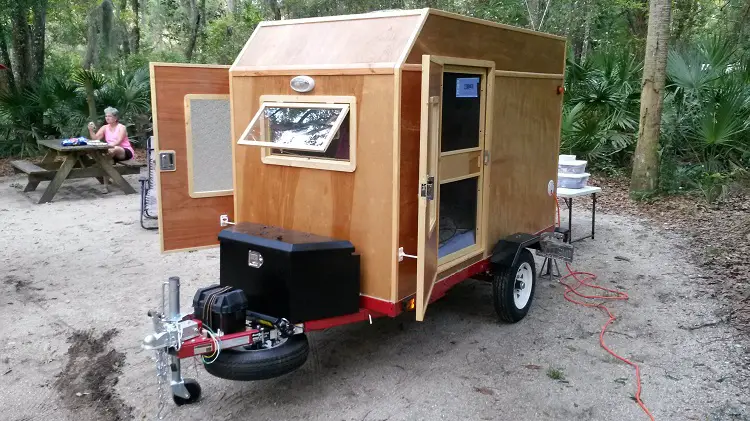 The sleek design of this mini camper is what you need in your next camping experience. With double doors from both sides of the camper, you can enter in without a hassle. Being lightweight, when it is time to wrap up, you can easily dock onto your car and fly away.
2. Shiny tiny camper for one or two
Stylish tiny camper laced with aluminum to improve durability and add aesthetic to your camping experience. It is lightweight and minimalist but designed with compatibility and durability in mind.
3. Weather-proof tiny camper
If you planning some outdoor activities for a weekend, this is for you. It had great designs and feather-weight. Open the boot to access the tiny kitchen and store.
4. Backwood living tiny camper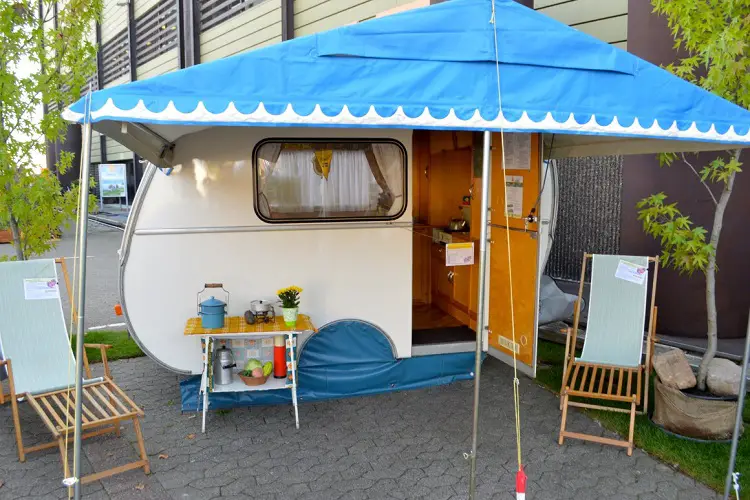 Add some outdoor space to your tiny camper by pitching a tent over your camper. Blue and white have no clashing history, cover the tires and the under camper with a blue weatherproof material to achieve a perfect match. suitable for backwood serenity.
5. Improvised teardrop camper
Think out of the square and innovate the upstairs idea in your tiny camper van. You might just double the capacity of the camper.
6. 3Ply box camper
Build your own camper with a three-ply board and some metal reinforcement. This one is perfect for campers on a budget because it is less costly.
7. Timber built camper idea
Using naturally available timber to build your tiny camper will significantly reduce the cost but still attain elegance. Build a camper with the shape of a house to let in enough air.
8. Frugal camper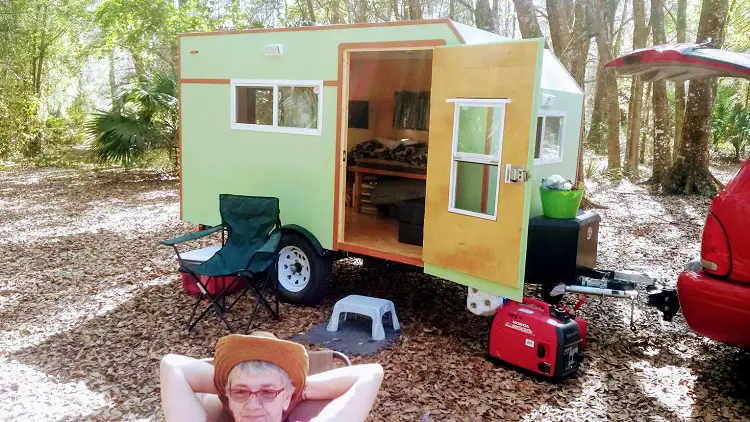 Build your camper the frugal way. Simple and comfortable for a whopping camping experience if you are a couple. The design is not considerate for extra.
9. Home-made camper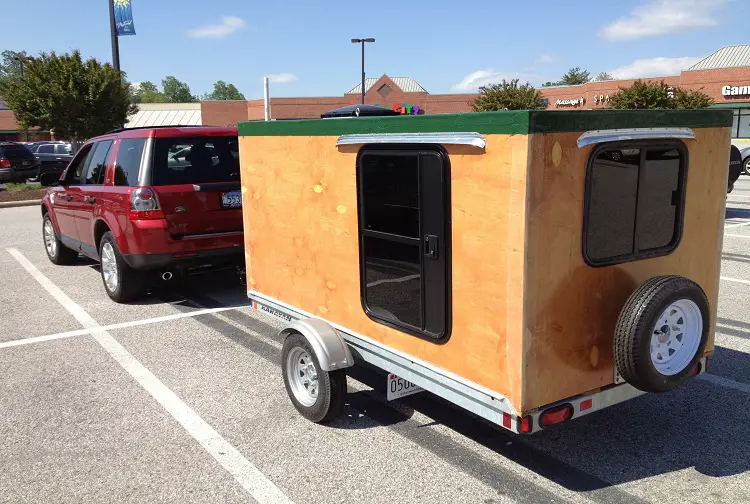 If you have are planning to build your own tiny camper and you want to give your camper a test of drive, try this sleek stylish yet tiny camper before the next camping season.
10. Camper for a tiny budget
For those of you who want a tiny camper but with a tiny budget, here is what you can try out. It has worked for many on a budget, i bet it would for you too.
11. Simple and uncluttered tiny camper idea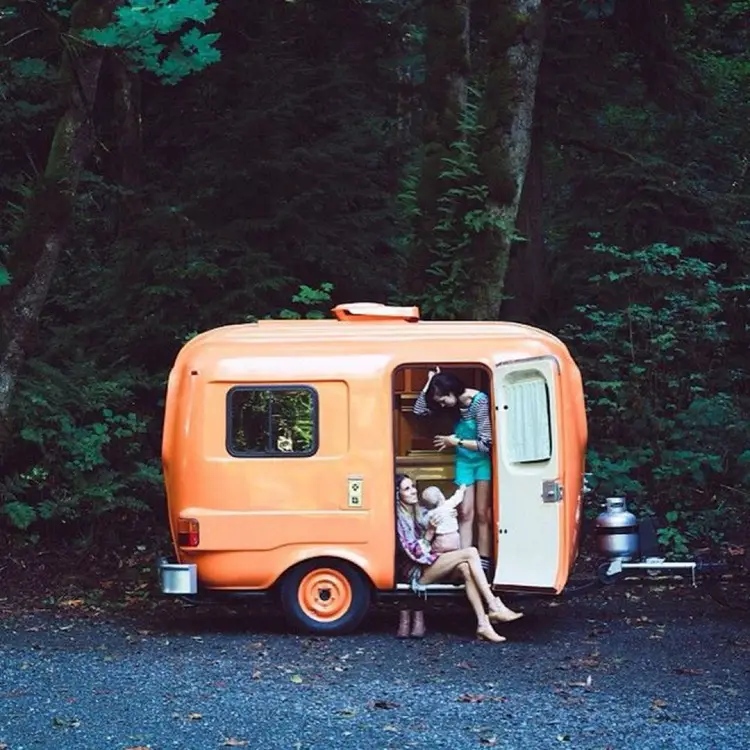 Think about starting small like this tiny camper category, keep it simple and uncluttered as you endeavor to grow someday, simply because, they are kids today, tomorrow they are grownups and need something more.
12. Camper with renewable source of power
If your trip will last longer than usual in the wild, you better think outside the box by installing a solar panel to your tiny camper.
13. Tiny camper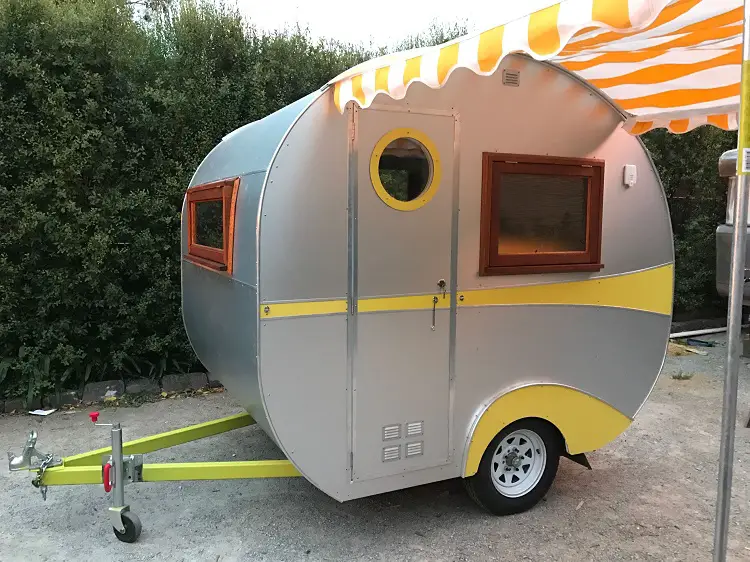 This minimalist camper is too tiny but with creativity, it can be sufficient for campers on a tiny budget. Awn a tent over to create a little outdoor space for you to relax on during the scorching sunshine.
14. Camper vintage with portal windows
Utilize the outdoor space of this tiny camper vintage by transferring core functionalities like the kitchen to the outdoor space. With the right decor, you can achieve more aesthetics in your camper.
15. Mini caravan
Simple and ergonomic, suitable if you are a lone ranger in the wild. It is more fun if you are in a group but everybody with his or her own tiny camper.
16. Armadillo tiny classy camper
If class sounds like you, and tiny is inevitable because of budgetary constraints, you need to consider this armadillo thing. Tiny but classy, perfect for new couples in an adventure.
17. Red little guy camper
Red and stylish sleek tiny camper just for you. Be ahead of the rest during the next summer with this sophisticated camper. Put everything in their place by being extra organized if you want to get the most out of this.
18. Tiny little teardrop camper
One tiny little teardrop for one lucky teenager. Let them get the best out of their camping trip with this self-contained tiny camper. Let them stand out from the crowd, they will thank you later.
19. Micro camper for off-the-road camping
If your plan is to go off-road at some point, this camper is for you. When the going gets rough, lift it onto the carrier and keep going. The camper is ergonomic and less costly but still give you the comfort beyond the threshold.
20. Shrinkable tiny camper
If you want something not combersome to tow around, this could be for you. You can shrink this camper into barebones. It is great for short camping trips. If you are the type who likes all-in-one, this could be the perfect choice for you.
Conclusion
You don't have to call off the camping adventure just because the season got you off-guard and you can't afford an RV. Explore other economical avenues like tiny campers, often than not, they are pocket-friendly, the right choice if you are on a budget. Hopefully, next season you will be ok because no situation is permanent, but until then, don't miss out, go for alternative tiny camping to save more.