Bunk bed for RV is a great way to add extra sleeping space for your campmates or kids in RV. Besides, kids love bunk beds a lot, to be sincere. Ergonomically speaking, you double the number of people sleeping on the same amount of space that could fit only a single bed, but still, sleep comfortably. Here are some of the best ideas I have selected for you to consider on your next camping season for your RV. Have a look at them, won't you?
1. Three bunk bed for your RV
If your family has grown big and you feel that you need to upgrade your camper, before getting there, consider a three bunk bed, and you feel that is not enough, why not let the kids in two's. I know they will like it and at the same time, it will save you the cost.
2. Double bunk bed for your RV
This double bunk bed will leave you with extra space of other stuff inside the bedroom. They are lean enough for one person. Make it look wow by using a similar duvet for bed cover on both bunks. You should try this one out on your next summer camping season.
3. Bunk bed designed with the shape of the RV in mind
This design of a bunk bed conforms with the shape of the RV when finished. It is ergonomic enough to leave you some space for other bedroom stuff and the upper bunk is not too high for those guys who hate heights.
4. Stylish and sleek bunk bed
For those of you who adore the style and black is their color, I have got you covered. Have a look at the sleek and stylish design, this one might take your camping experience to the next level!
5.Luxury bunk bed
If you want to experience the comfort of a hotel even in the wild, this is for you, the lower bunk having removable drawers for you to keep your personal stuff under the bed. You can get the latest news even on the go with your little flat-screen TV fixed right beside your head. There is no second thought on this!
6. Luxurious bunk bed for RV
Tiny but luxurious bunk bed for you and the kids. Let them sleep on the upper bunk while you take the lower one. Improve privacy with built-in curtains on both bunks.
7. Black and white double bunk beds on both sides of the RV
This is for a family with kids. Black and white color form a tiny shiny bedroom for you and the kids, let the kids on the upper banks while you and your partner on the lower pairs. Enjoy a sense of style with this!
8. Natural wooden bunk bed with snow-white mattresses
If you like natural, and still want to be stylish, this could be yours. The mattresses are designed in the shape of the bed to have stylish look. Plus white color mattresses, you achieve elegance.
9. Ergonomic bunk bed
A three bunk bed with blue mattresses for every one of your family members to sleep comfortably. With a flat board designed to provide staircase for those sleeping on the upper bunks. as well as protector to prevent falling out of bed.
10. Simple looking bed bunk for RV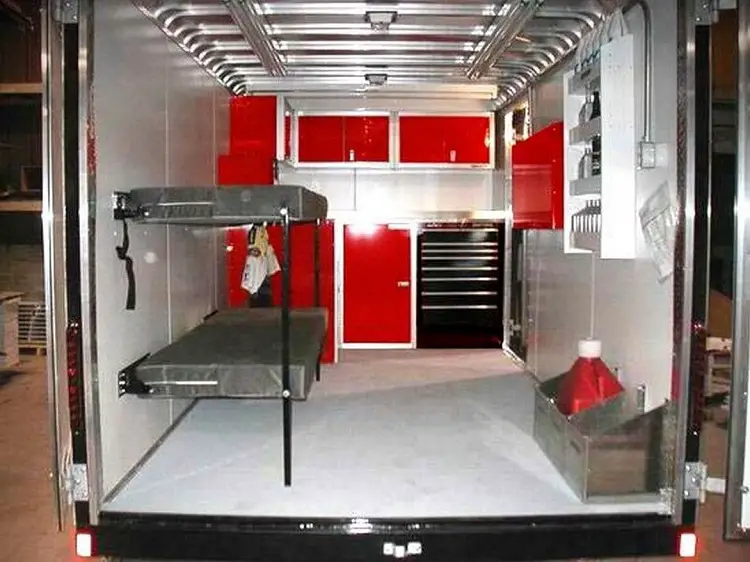 For RV to achieve more space for other home functionalities, this simple ergonomic bunk bed is ideal. You will have enough space remaining for other things in your RV.
11. Lift and Lock bed bunk
This lift and lock bed bunk can be used as a couch during the day and turned into two-bed bunks during the night by lifting the upper bunk to the desired height and locking it in place. What an ergonomic idea in this bed? super awesome indeed.
12. Folding bunk
When faced with limited space challenges in your RV, it is time to think outside the box. The folding bunk idea might be a better option for you. Use your bedroom for a dining or sitting room, when the night comes, do unfold the upper bunk and lock it in place to form an extra perfect bed bunk for your campmates.
13. Metal bed bunks
Have a look at the sleek metal design bed bunk. The lower bunk is a little bit larger and can accommodate two, probably couples while the upper bank can be used by one or two kids. They are minimalistic and ergonomic suitable for RV.
14. Bunker shelf
This bunk shelf is super awesome. You can achieve an additional bed during the night for extra bed and return the bunk in its place during the day for more space inside the RV.
15. Appealing folding bunk beds
Simple metal and board – foldable bed bunks. When you wake up, raise the two bunk beds towards the wall and fasten it in place. The whole space is then available for other activities in the RV.
16. Bed bunk with yellow theme
Yellow painting on the wall, yellow rugs on the floor, yellow pillowcases, yellow bedsheets, yellow drawing on a frame – theme yellow. It is a perfect match. Beautiful idea for RV bedroom.
17. Traditionally designed bed bunks
Harmonize the theme in the bedroom by choosing colors that do not clash. Brown tiles, reddish-brown wood furnish on the wardrobe and beds. Bed bunks on both sides of the RV increase the capacity of the bedroom.
18. Convertible bed bunk
Achieve more with this convertible bed bunk. A bed in the evening and a couch during the day. This way, you save tangible space in your RV.
19. Bunk crib/toddler bed
The safety of the kids ensured with the lockable grills on the upper bunk. You probably want to end your camping experience without injuries, this type of bed bunk not only adds load capacity but also ensures the safety of your toddlers.
20. Luxury bed bunk idea
If you have the idea of sleeping like a king in the RV, this is a perfect idea for you to consider. Its comfort is unmatched and color concurs with the furniture inside the RV.
Conclusion
Having bunk beds in your RV not only increases the capacity holding in your bedroom but also adds aesthetics and appeal to your bedroom. It also leaves your bedroom organized. A bedroom is one of the sensitive areas that need much of your attention while designing, so, before your next camping season, look at these ideas, they might help you! Feel free to comment or give suggestions below.