Space is generally limited in RVs, there are utilities that take space in your RV and the table is the victim. They are utilitarian and not the most aesthetic pieces of furniture in the RV. Here are some of the ideas that can splash up your dining tables. Please do follow!
1. Single stand dining table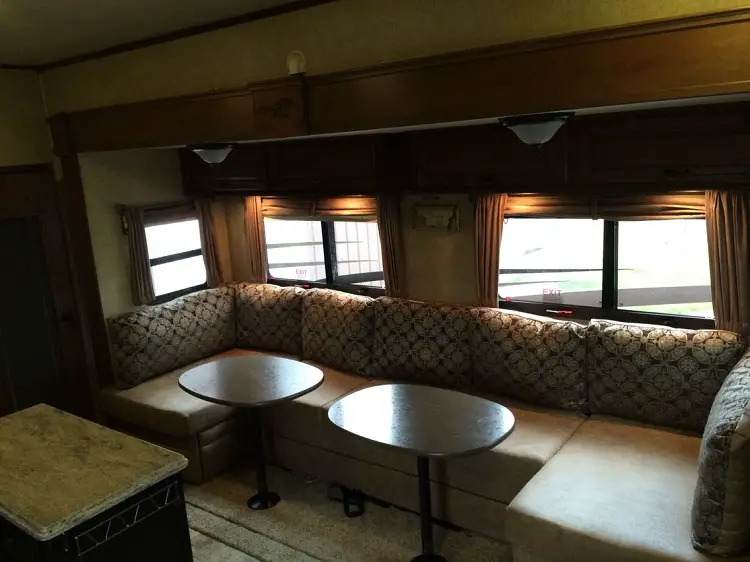 Single stand tables in from U-lounge dining seats can be appealing and brings comfort in that crucial moment of feasting.
2. Round table for a dining set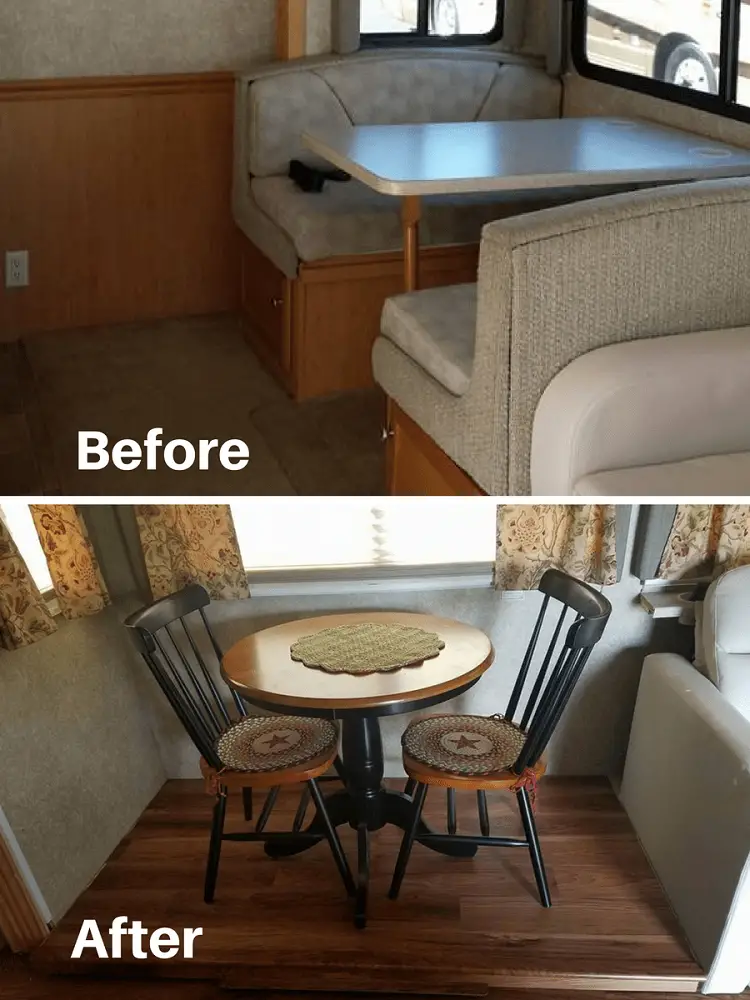 Get rid of the table and that space-taking couches, instead bring in a more ergonomic round table and a set of dining chairs to save space in the RV.
3. Luxury tables for RVs
Live legendary with a high-class double-stand table for luxurious RV living if you are not and budget and don't mind spending on luxury.
4. Oak board top table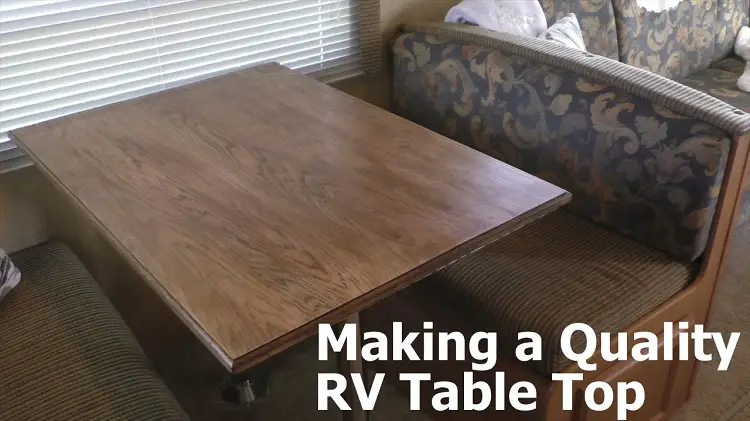 Two-stand oak top table paints the impression of quality in your small RV dining area.
5. Camper dinette makeover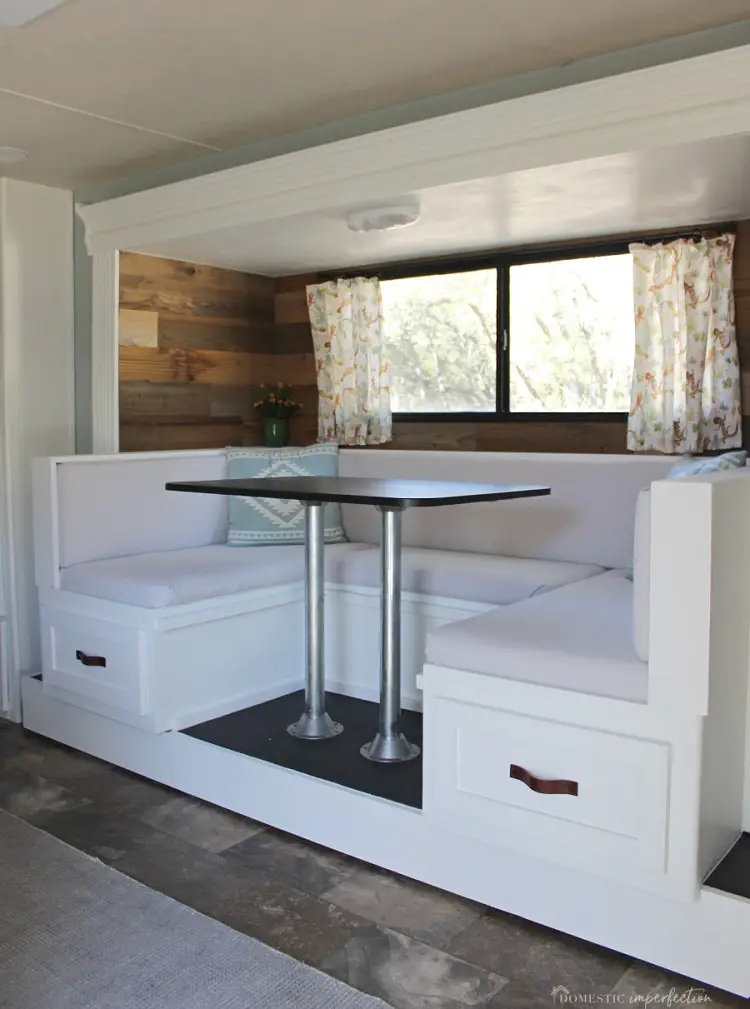 Tiny dinette table that can comfortably dine three out of the box. Sleek and stylish.
6. Adjustable dining table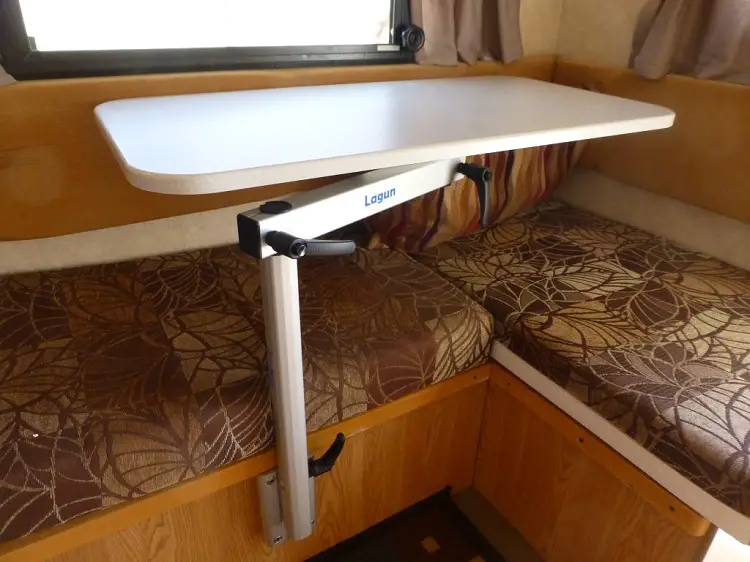 Simple, adjustable and rotating table for your tiny camper, really ergonomic. Choose where to it from and let the table follow you.
7. Sleek, elegant and stylish foldable tables for your tiny camper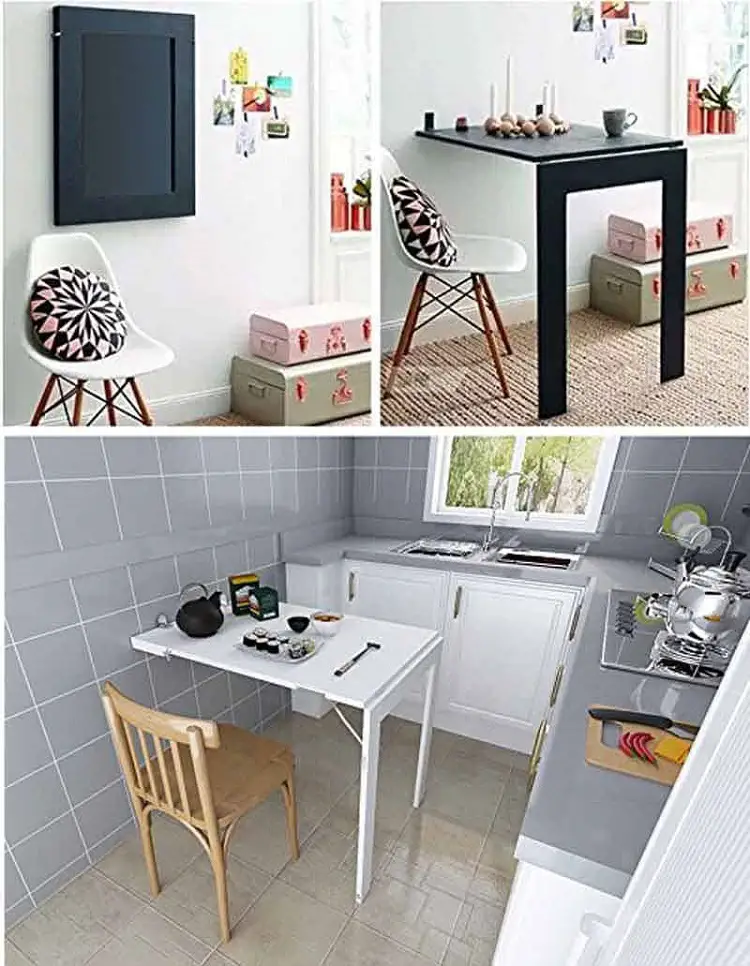 Try these foldable table ideas in your RV and you will save yourself some space to roam and still remain elegant, sleek and stylish.
8. Folding wood table for RV
One of a kind folding wood table suitable for small space areas like RV campers with the potential to dine four RVers small as it is.
9. RV table remodel
Reinvent the wheel with a modern small single stand table with a glass top and a blockboard underneath, for elegant design.
10. Wood table for RV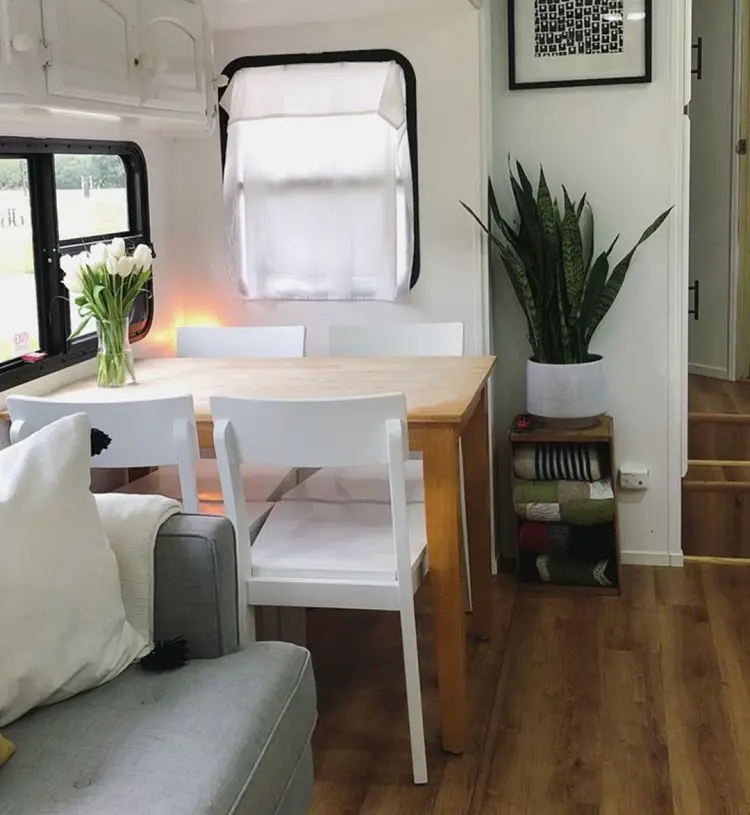 Wood table fixed on to the RV wall to give way to the kitchen area and other RV amenities i.e bathroom.
11. Fancy decorated dining table
Add aesthetics to the dining room of your RV with this fancy dining table with clear furnish sitting on a snow-white woollen mat.
12. Folding dinner table and a TV stand in one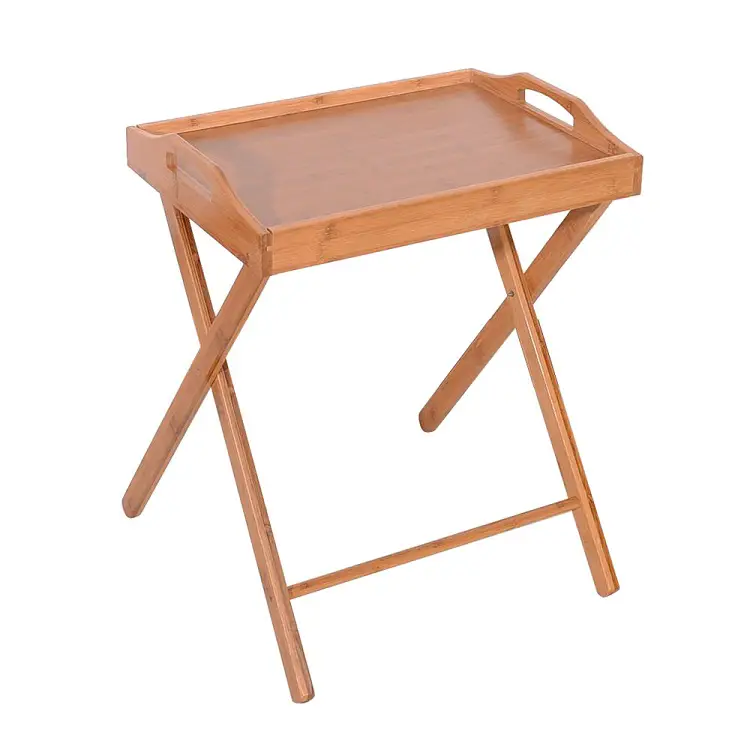 To utilize limited RV space, you need ergonomic furniture in it, choosing a two in one functional furniture is a leg ahead in your motorhome.
13. Credenza table and chairs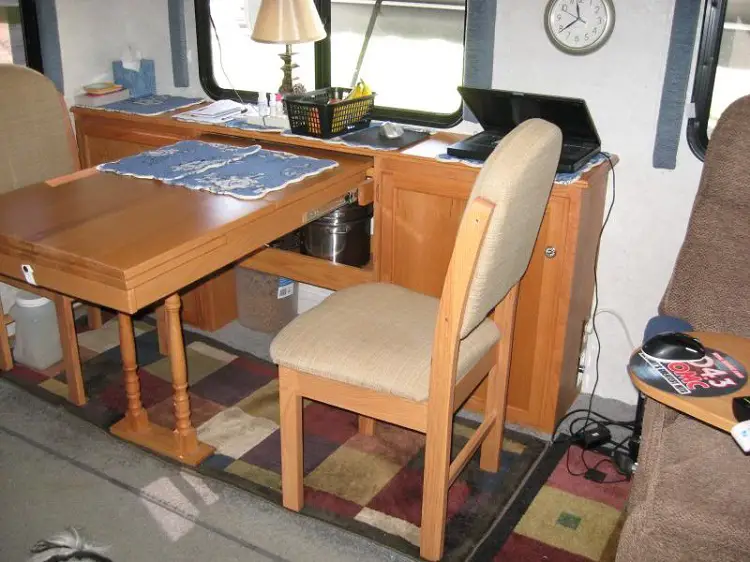 A dining table fitted with the cabinet that can two people is not only ergonomic but also stylish. It comes with two chairs but there is a potential to add a table from the edge.
14. Dining table outside of RV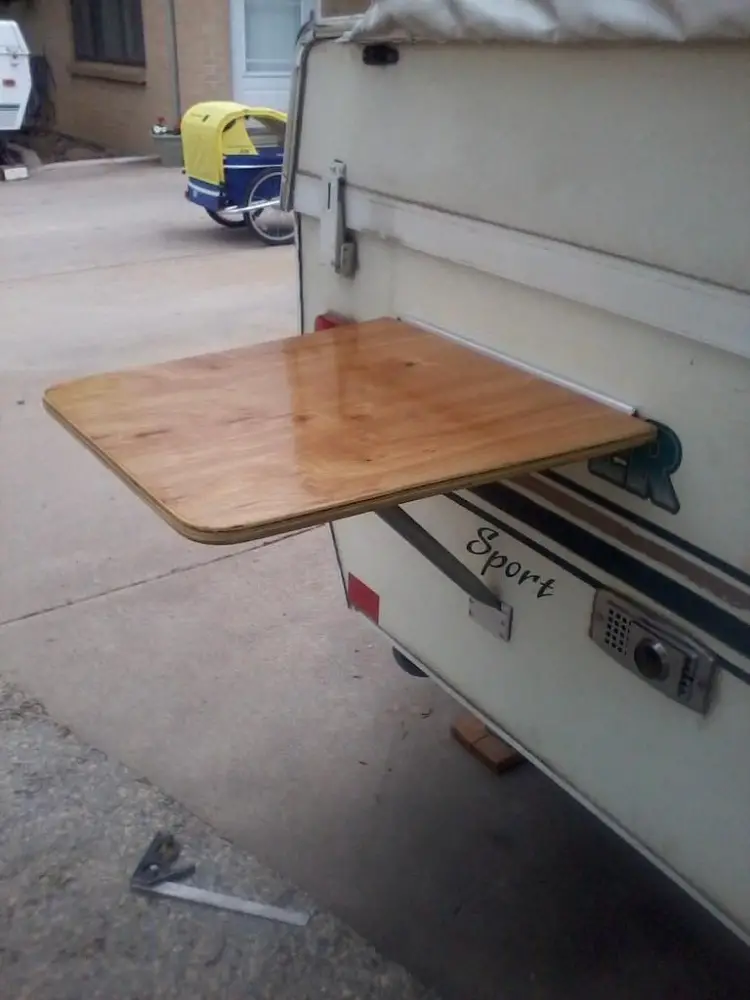 Creatively add a dining table outside your RV to enjoy the cool freeze outside while dining. Simple and economic. All you need is a blockboard for a tabletop.
15. Dining roundtable with a glass top.
Upgrade your dining area with a modern, sleek and state-of-the-art decorated roundtable with a glass top.
16. Crossing dining table
Imagine a dining table without stands/legs, just held in place against kitchen countertop, but don't you worry, it won't spoil your feast, it's sturdy enough.
17. Dining table makeover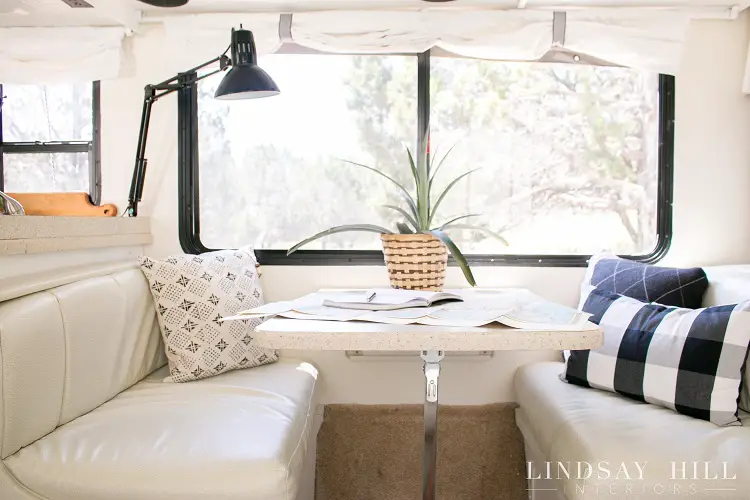 Get rid of the boring brown RV dining table by refurbishing your dinette with a painter, either white or ceramic-white colours.
18. Slide-out dining table for RV
A slide-out dining table for your RV where you pull the extension to increase the dining table size and capacity and reduce by pushing inside accordingly.
19. Artistic dining table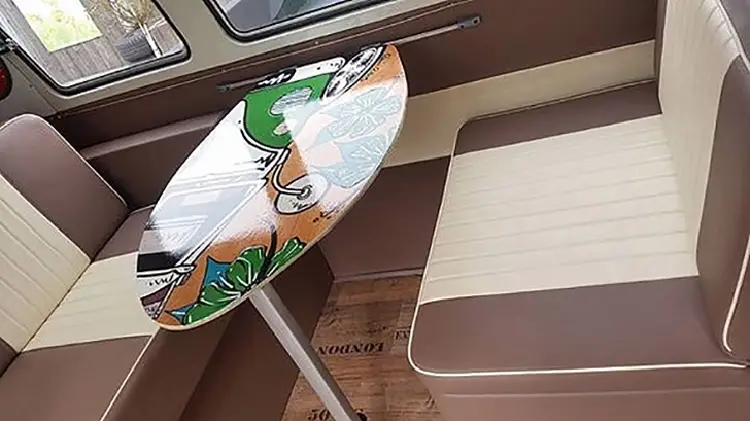 If you like Etsy art, why not hire an artist to do your dining table. Talented designers will paint your table the best designs of your flavour.
20. Pretty table designs
How about purchasing laminating cloth – oilcloth to cover your tabletop with a new design for a refreshed look
Conclusion
I hope you got the inspiration for the best dining tables for the RV, for suggestions, drop them in the comment box below. Thank you.