If you are planning to do a major RV makeover, or you want to do a renovation on your travel trailer; I have selected 20 inspiring RV makeovers. They might help you.
1. Adjustable overhead lights
Get this adjustable overhead lights that will inspire your reading culture while on an adventure.
2. Kitchen makeover
The kitchen is the central verve in RV and needs great attention and detailed makeover over time. With dark color in your kitchen cabinets and snow-white on the kitchen countertop, you will be inspired to cook even if cooking is none of your hobbies.
3. Brown wood on the floor and kitchen countertop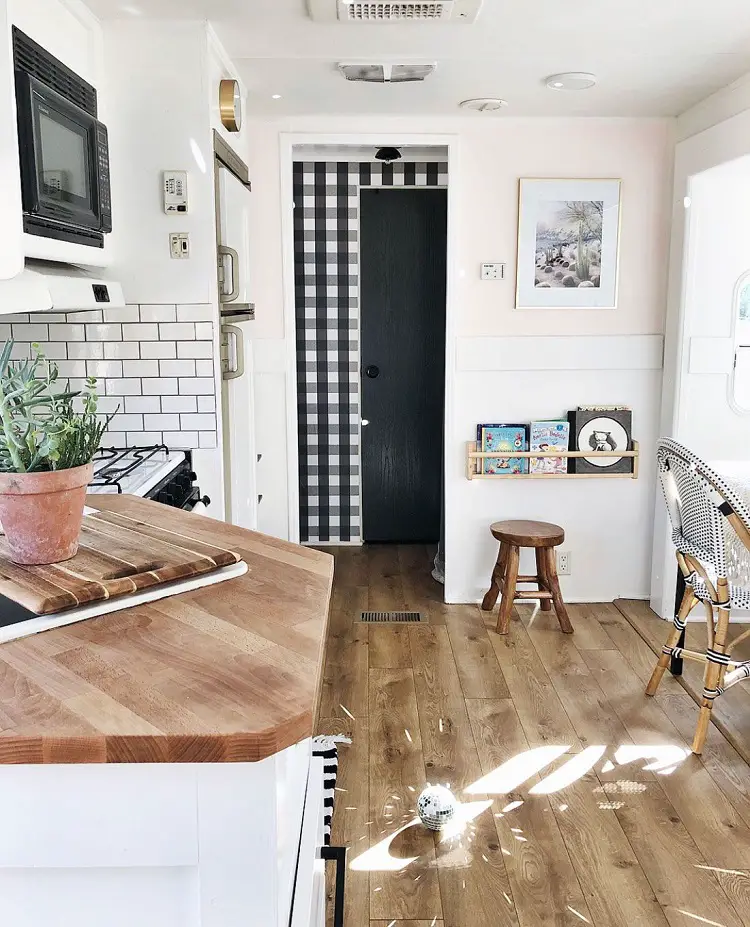 If brown color inspires you, why not apply brown wood on your RV flooring as well as on the kitchen countertop. You can also bring in a brown wood furnished coffee table to be inspired more on your camper life.
4. Wall-mounted table and plastic stools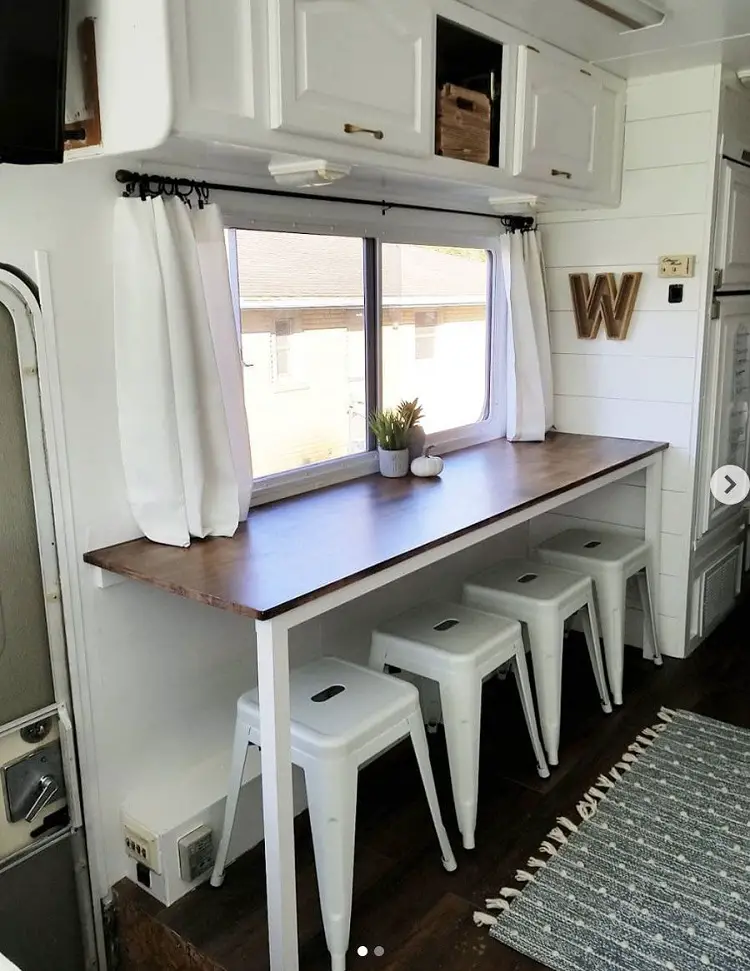 Your RV is limited in space but you can still be motivated with this ergonomic table mounted onto the wall and pieces of plastic chairs to make your dining area spacious to roam around.
5. Long tables on your RV
Appreciate the longitudinal shape of your RV by purchasing custom-made long tables to fit in without a problem and for you to dine more RVers at a go.
6. Creative makeover and renovation
Inspiring RV makeover and renovation that prove, you might just need a little elbow grease and creative vision to make a motorhome one of a kind.
7. RV brick layered painting from inside.
Create an illusion of a conventional home with the paintings that depict the brick layered house inside of your RV for inspiration for you to stay longer in RV living.
8. Easy RV camper makeover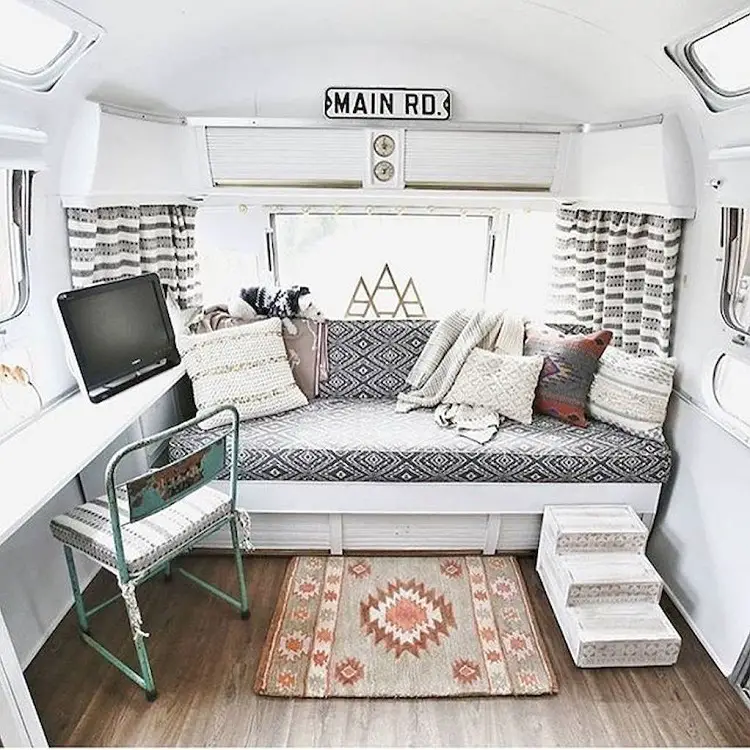 This is a simple and easy way to make your motorhome habitable again and inspiring to live in, your sofa bed will serve you twice and keeps your tiny RV space organized and first-class.
9. Pop up camper makeover
If parliament blue color holds inspiration, it is up to you to get inspired by this color on your couches, sofa bed and anywhere you want on your RV camper motorhome.
10. RV bed makeover
Heat retention strategies in your bedroom to inspire your sleep mode to the next level. Woolen or cotton linen will serve you better in heat retention strategies if you are planning not to ruin your batteries with air heaters in your bedroom.
11. Tiny home living in style
Make your mobile camper warm despite the season you decide to travel with a charcoal heating box for you to live unlimited away from home.
12. RV camper makeover that will inspire you
This dining and kitchen makeover has the possibility to inspire you to live in your motorhome for months.
13. Bathroom design for your RV makeover
Get inspiration with the state-of-the-art bathroom design that is a shower and a bathtub in one.
14. RV makeover that you need to see
Give your camper a facelift with a little splash on the dining with a luxury sofa and a blue fabric carpet to inspire your living in RV.
15. Amazing couch covers in RV camper
Change the covers of your couches to this inspiring and breathtaking color and decorations, they will inspire you to live the life of a first-class hotel even in a motorhome.
16. An awesome rug on the RV floor.
Throw in some flooring fabric with decoration for RV inspiration that never fades away.
17. Glamping your RV
Right from the flooring fabric to the couch covers, impress with bold rhyming colors and patterns that will determine your RV living.
18. Doorway artificial flowers inspiration
Fall in love with the looks of your RV the minute you enter in with artificial flowers for decorating your interior and exterior.
19. Camper makeover on a budget
RV makeover ideas on a budget that will inspire your RV living without breaking a bank.
20. Curtains for road-trippers.
Window curtains and table mats that inspires with fragrance and the lights it lets into the RV is beautifully amazing.
Conclusion
I am sure that you are now inspired by the section I made for you. But yet still if you have suggestions of the best makeovers and renovation ideas you feel they are important or any comment just drop them on the comment box, I will review them and tell you my feelings.