If you want your RV to look like a farmhouse, well, it is not a big deal, follow these samples I selected for you to be inspired.
1. Farmhouse inspiration in your RV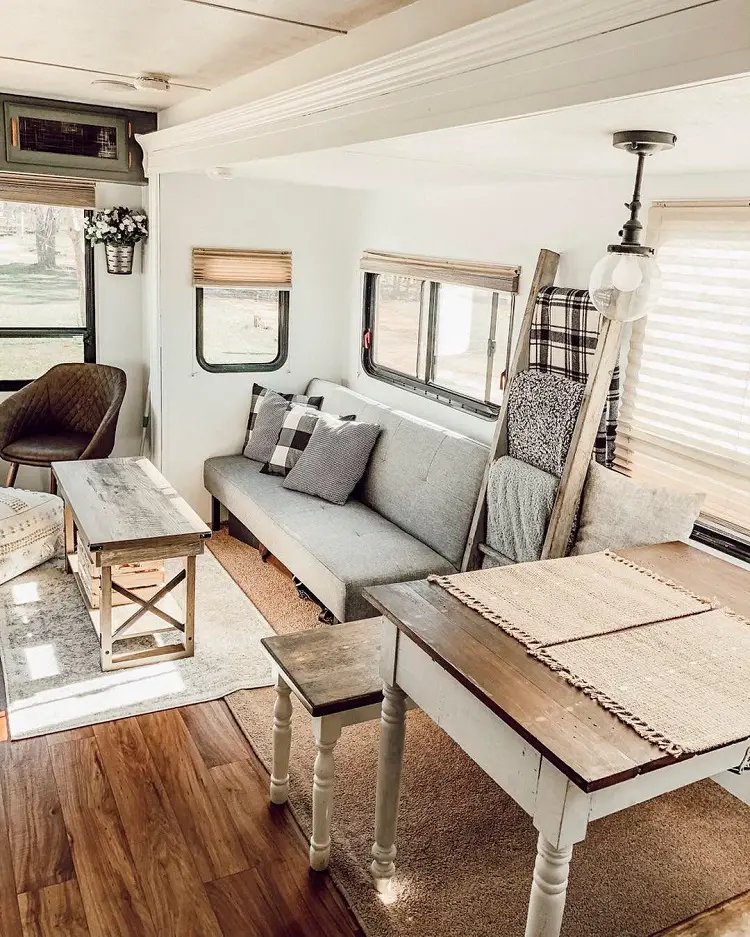 Decorate and renovate your RV to look like a farmhouse with a little effort and on a budget with this stunning idea. Simple wood tables and wood flooring and carpets to make your RV like a real farmhouse.
2. Farmhouse RV inspiration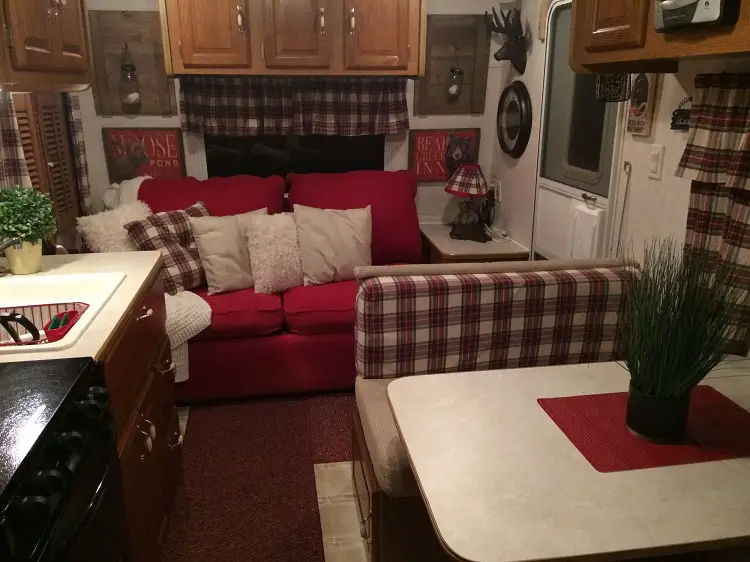 Red couches in your RV living room with industry-grade carpet will make you forget the fact that you are in RV and instead, a farmhouse.
3. Modern farmhouse in RV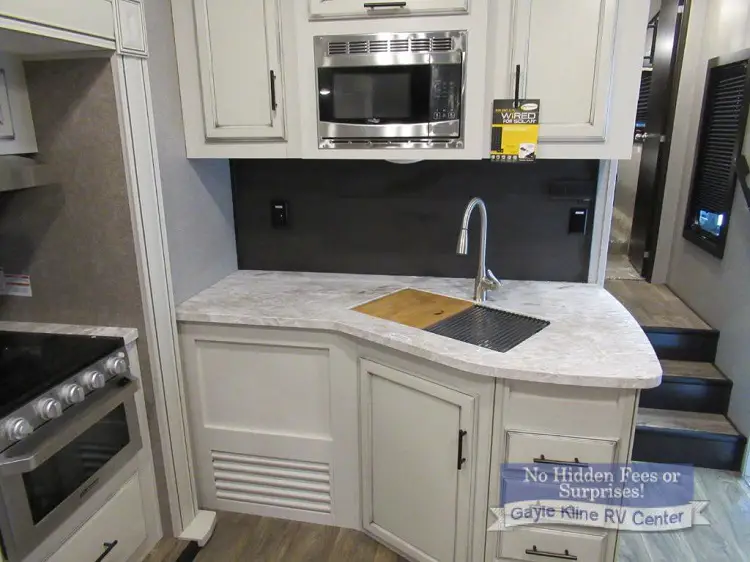 Kitchen drawers that resemble those found in the farmhouse to inspire you to live in RV as long as possible
4. Awsome interior farmhouse decor for RV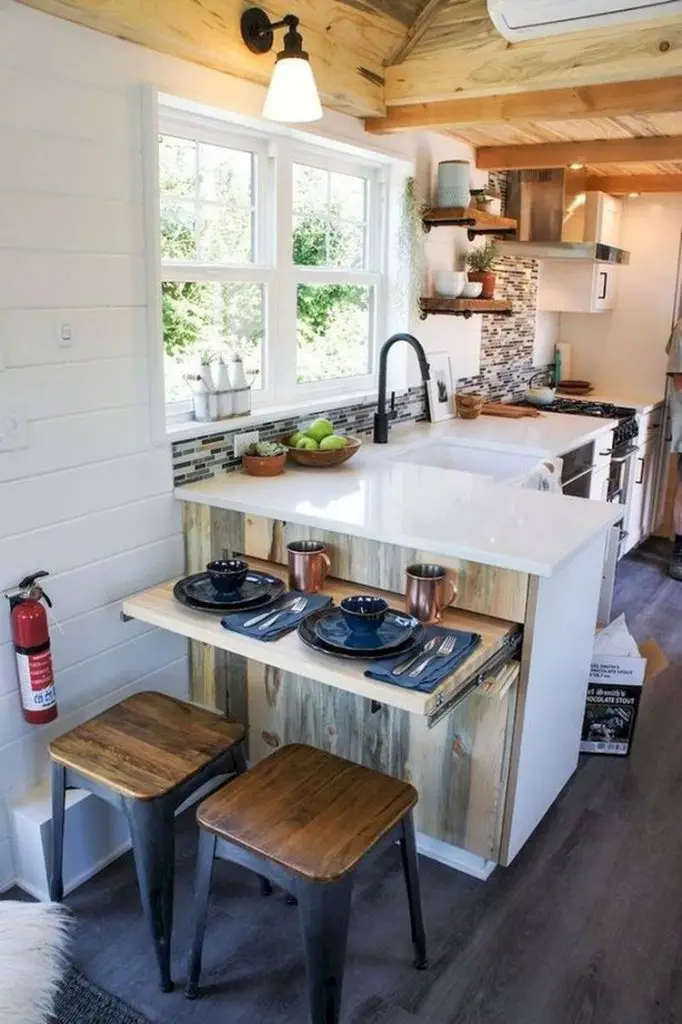 This RV kitchen space idea and dining set though more ergonomic inspires many to live in RVs like they are in a farmhouse.
5. Interior decor for RV just like farmhouse's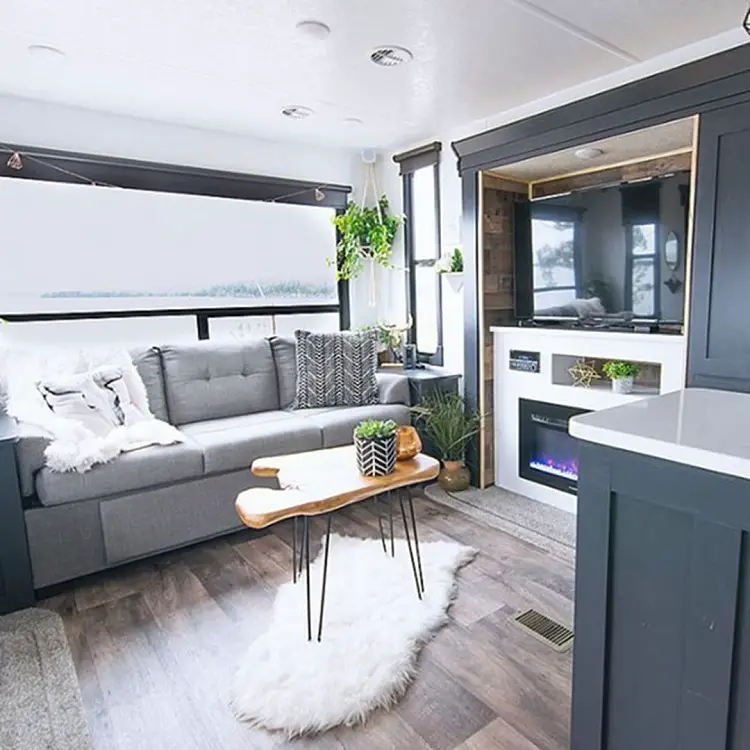 Imagine the great sofas and great kitchen space that invites you to live like you are in a farmhouse and not RV.
6. Farmhouse interior decor for RV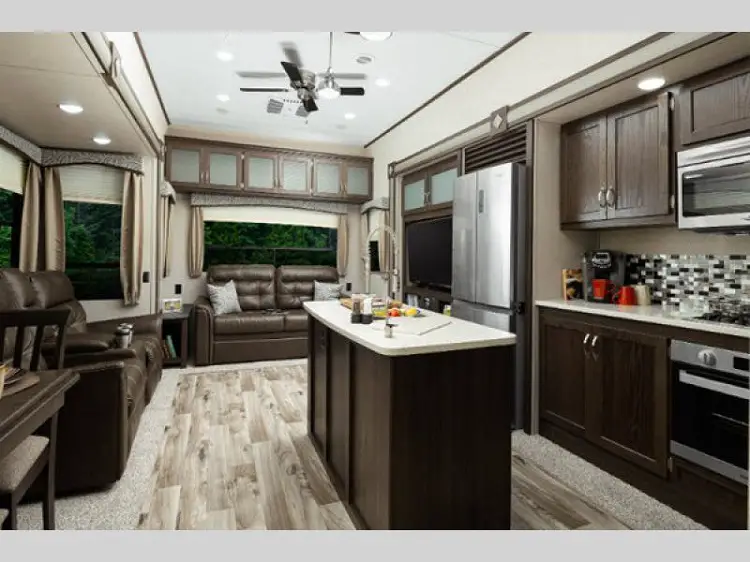 There is nothing to limit you while living in this RV, just like in a farmhouse, you get relatively large couches and state-of-the-art kitchen setup and everything else except the roaming space is limited which is nothing serious.
7. Farmhouse bathroom idea for RV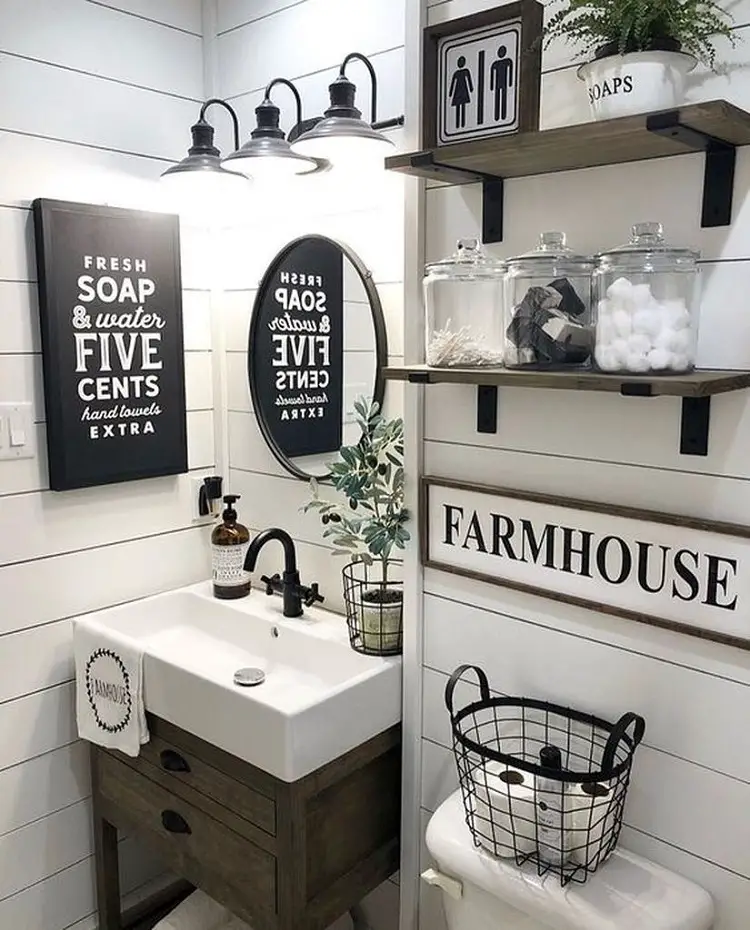 Clean, airy and white walls in your bathroom for inspiration to live and enjoy camper live in RV.
8. Modern farmhouse kitchen RV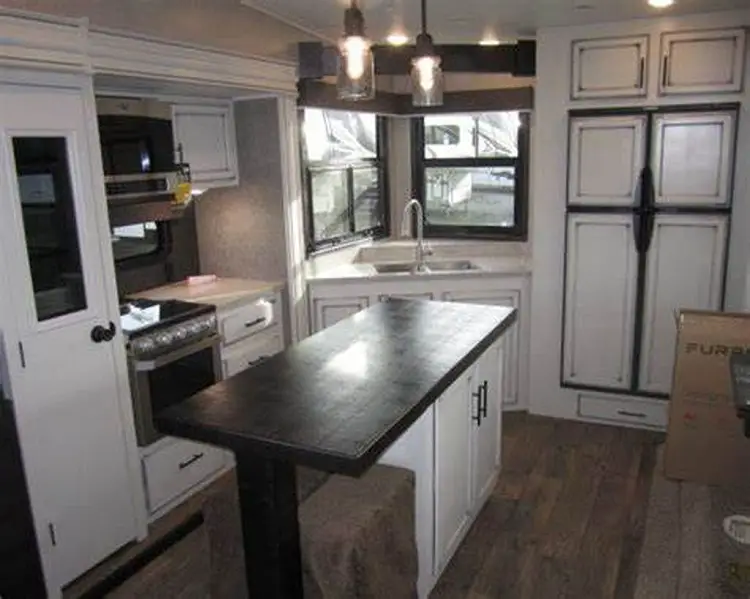 A farmhouse RV with a kitchen made with dark wood and cabinets next to gas cooker and microwave, a sink right to the corner.
9. Farmhouse RV makeover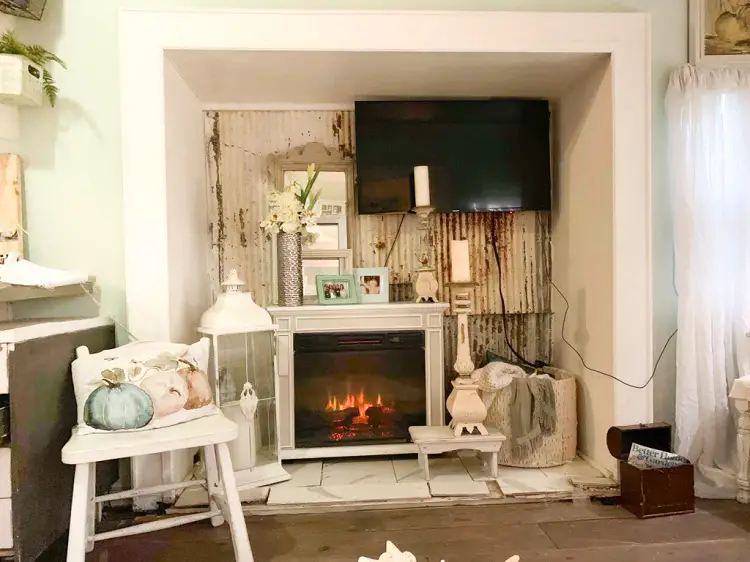 A wood or charcoal fireplace inside of the RV seems quite unique, but if enclosed well, the RVers can as well enjoy fireplace like in farmhouse, why not?
10. RV farmhouse decor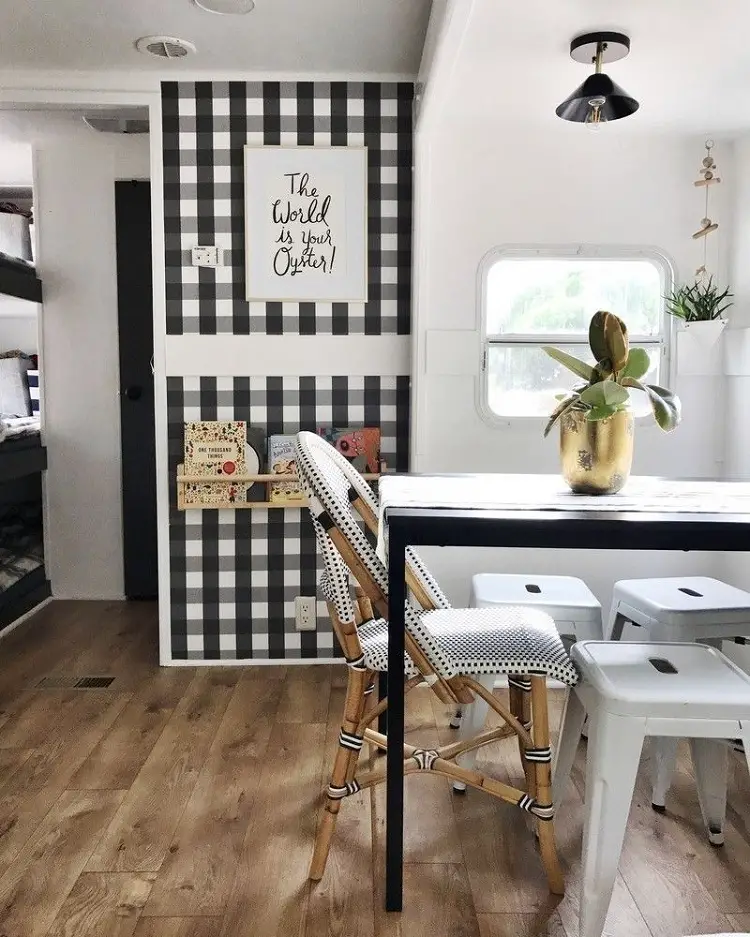 Black and white checked decor on the blocking board and yet another patterned artistic chair to spell out aloud the theme of the RV.
11. Freedom farmhouse RV living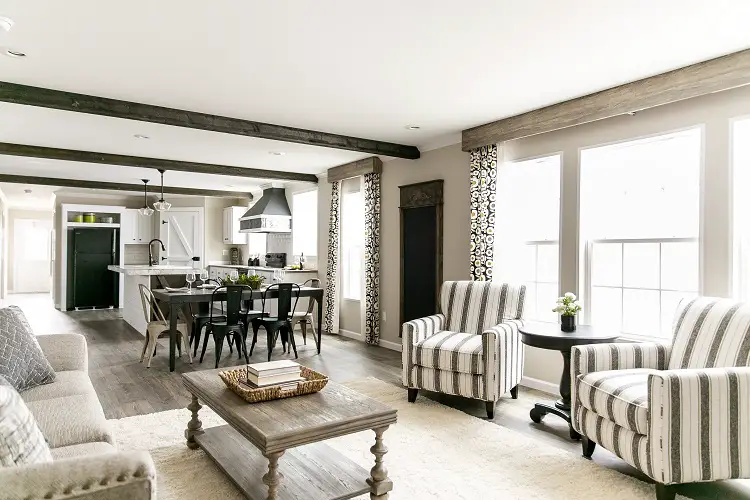 Modern and luxurious farmhouse dining set and sofa seats that are impossible they are in the RV.
12. Gorgeous farmhouse kitchen ideas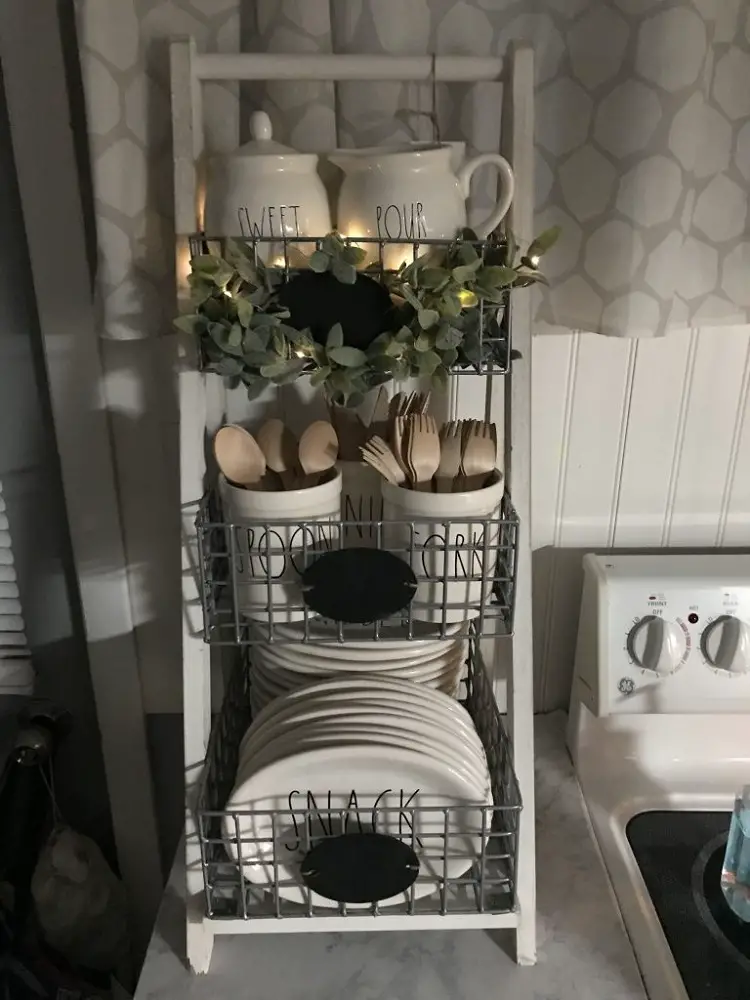 You can achieve astonishing farmhouse decoration in the RV with makeovers like this without overhaul.
13. Cozy farmhouse RV makeover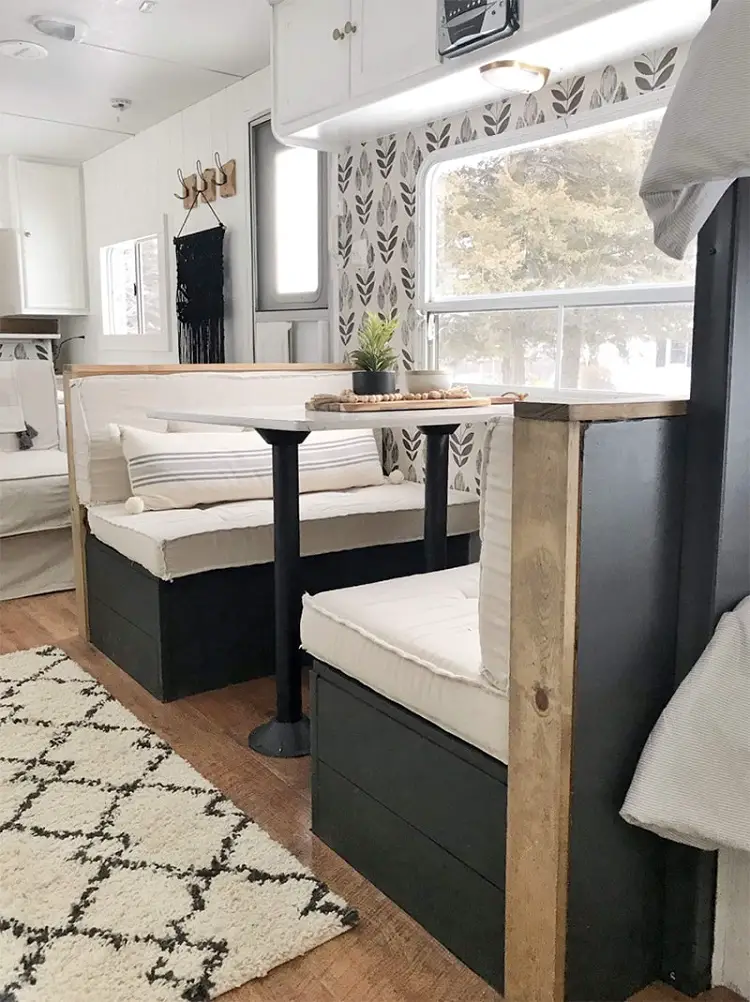 You can transform your farmhouse camper for as little as possible but with optimum results and aesthetics.
14. Modern farmhouse RV that inspires
Get inspiration from this farmhouse RV with unlimited cabinets and countertop for your freestyle movement up and down the kitchen area.
15. Wooden rack for farmhouse RV decor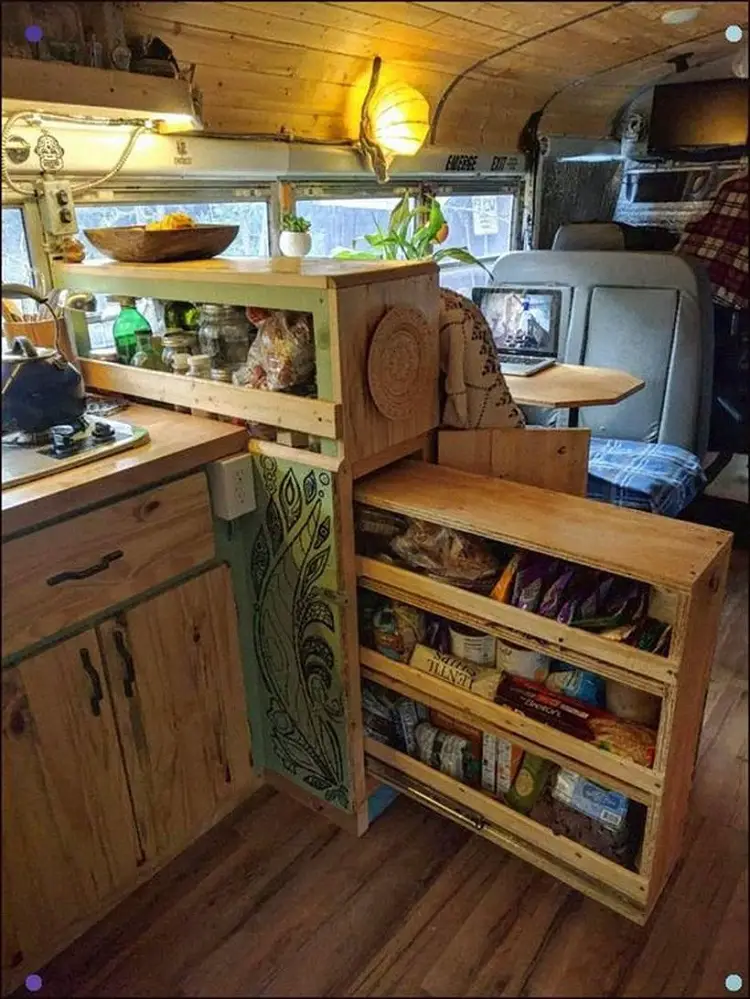 Get inspired with awsome interior wood rack farmhouse interior that is bound to take your RV camping experience to the next level.
16. Urban style RV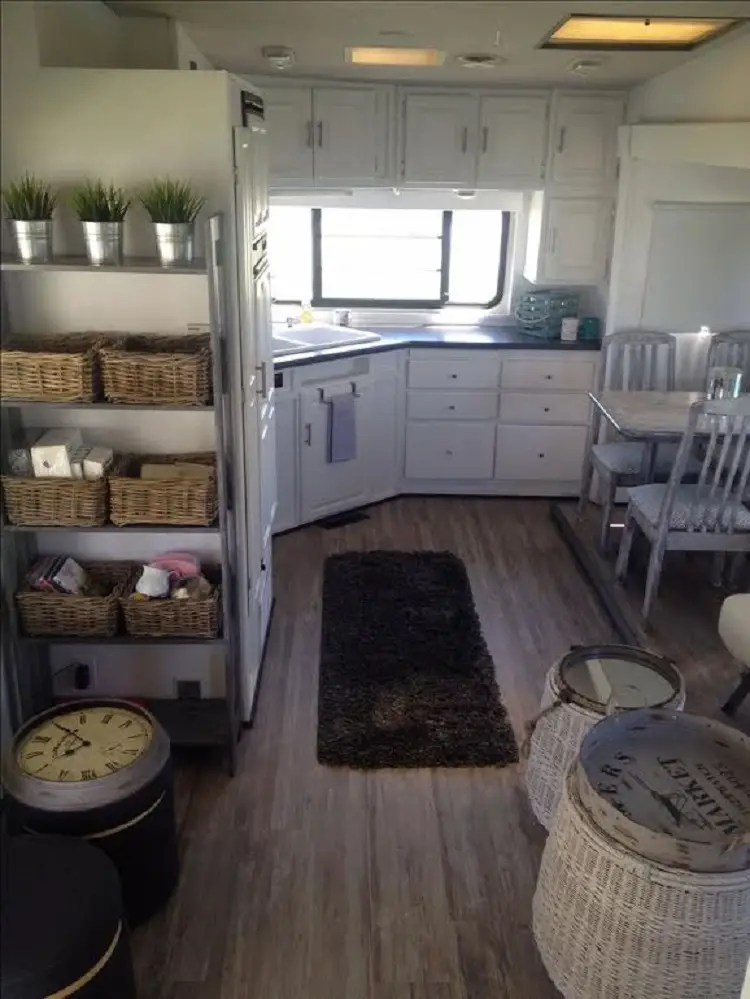 This is a common farmhouse RV you could find in many RVs today, with space-saving ideas to keep the place organized.
17. Fabulous farmhouse RV decor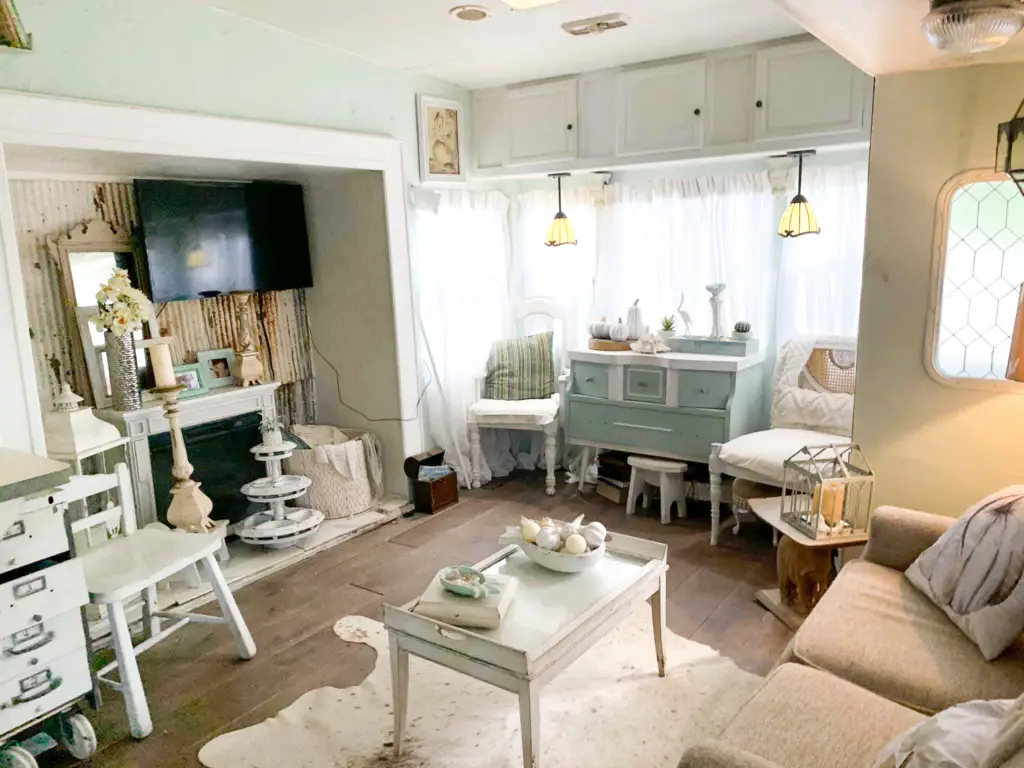 The lights in the room can meet the lighting requirements but with the option to replace them when you feel you need to consume more watts or fewer watts according to personal requirements.
18. Stunning interior farmhouse design RV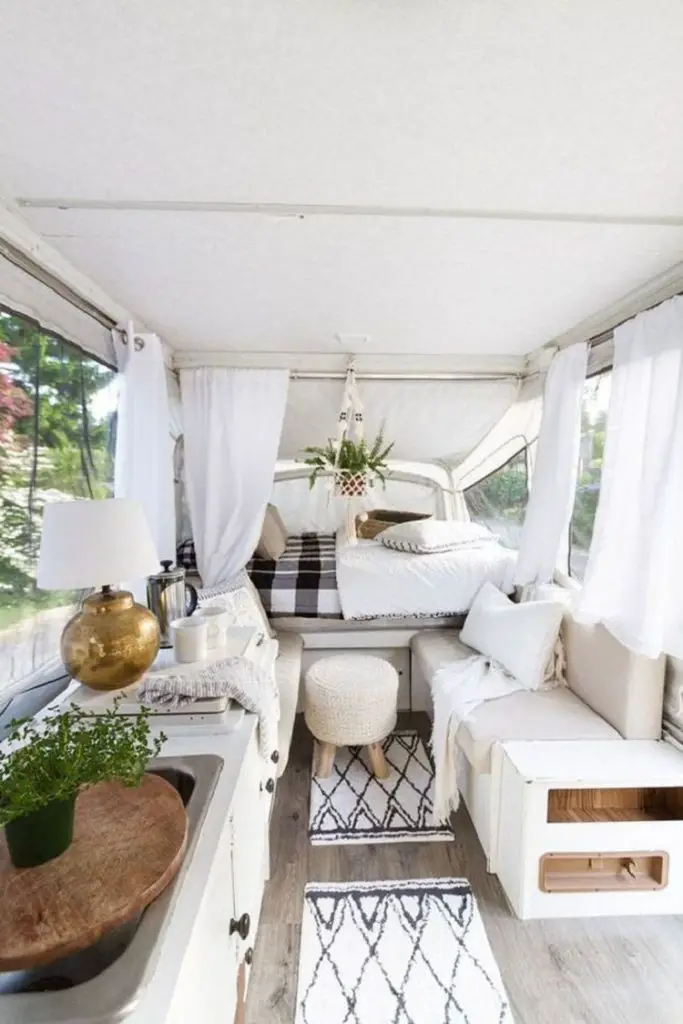 Lucrative designs that are fulfilling to the hearts of many RVers and aspiring RVers in general.
19. Farmhouse RV dining area idea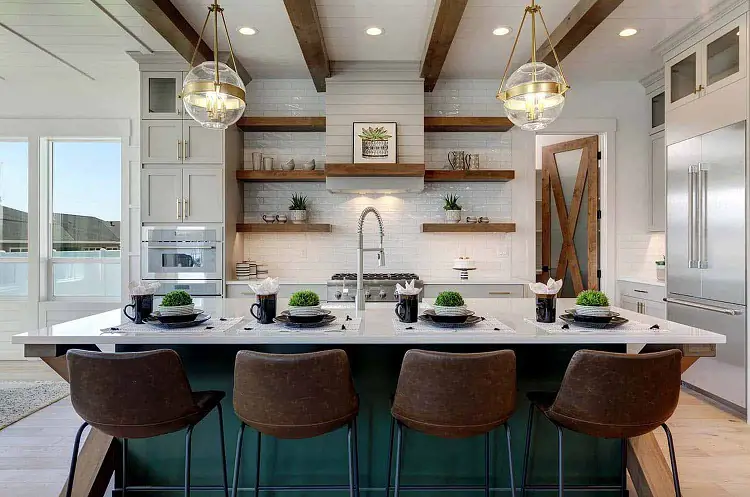 RV farmhouse interior designed with ergonomics and economics in mind though without compromising the upgraded decor.
20. Enchanting decor for your RV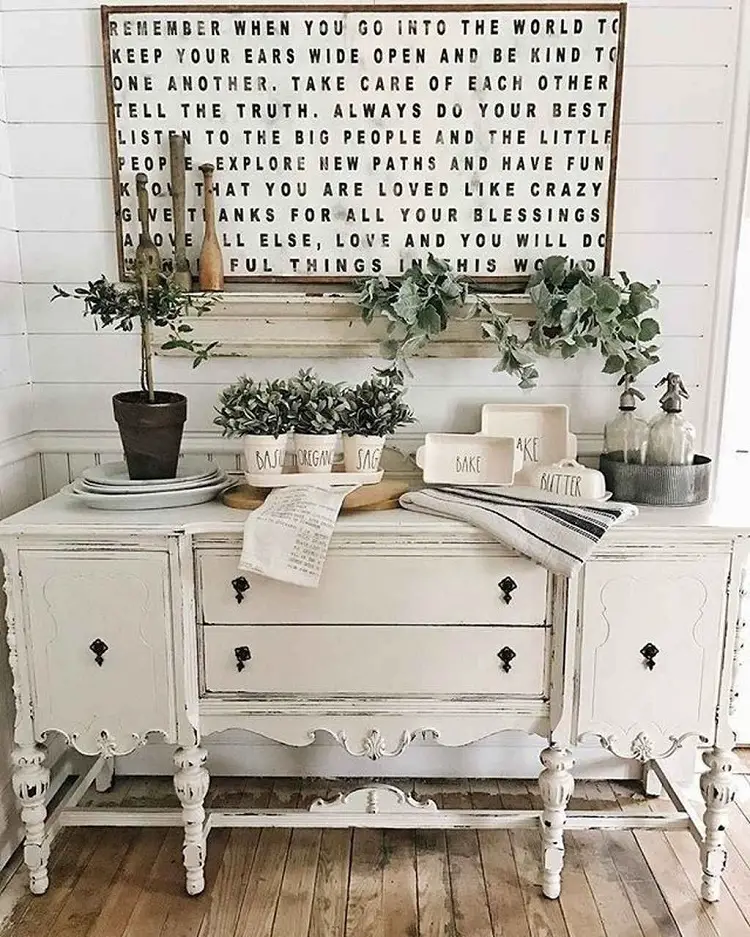 Enchanting wall charts that bear decor speaks volumes of interior farmhouse RV decor, not to mention highly crafted artistic cabinets that add to the interior decorum.
Conclusion
I hope you are getting inspired by my selection of farmhouse RV style decor and you have a suggestion don't hesitate to leave a comment, I will find time to review and get back if you don't mind. Thank you and feel inspired. won't you?