A DIY camping trailer will provide you with a mobile home at an affordable price. Interestingly, you can build a trailer camper to meet your specific needs. when travelling, there is no need to pay for expensive hotels, with the DIY camper you can park your car sleep in your mobile home right behind your vehicle. Look at the collection below to be inspired to get one for yourself soon.
1. DIY Offroad overland camping trailer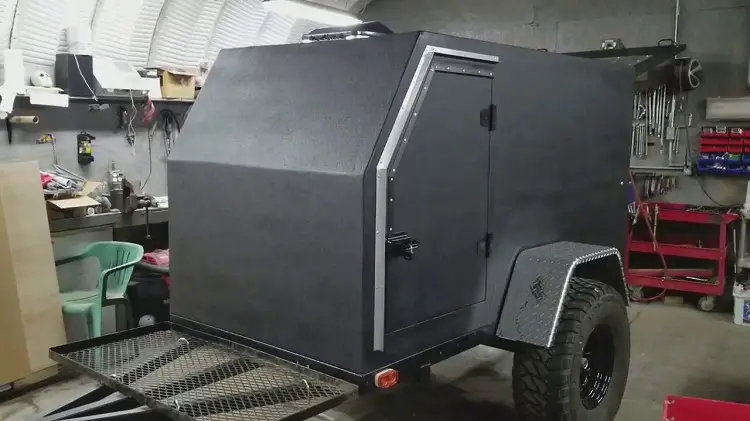 It is cool to move around with your little mobile home so that when the night comes, you do not have to worry about hotel accommodation or lodging, just drive your car to a parking area and spend your nights in your DIY camper trailer. They are more than comfortable.
2. Homemade micro camper trailer
Economical DIY camper trailer that you can tow around on the city and a little on to the off-road.
3. DIY adventure trailer for tools and stuff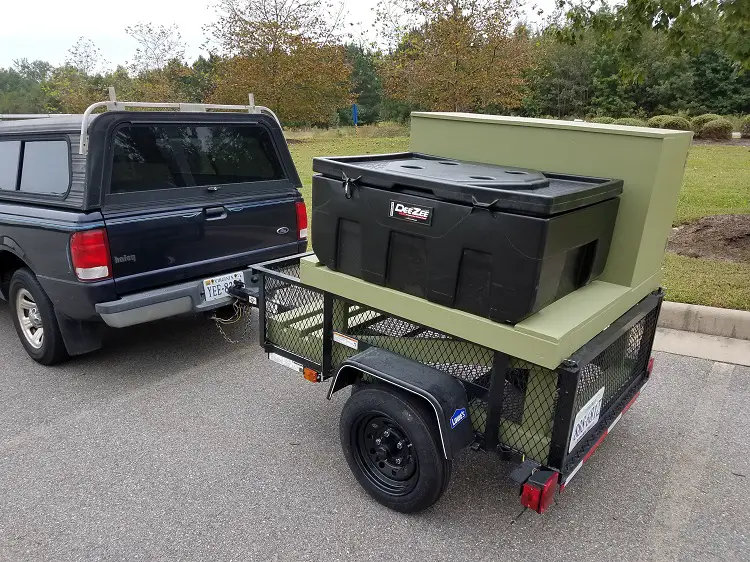 This works for folks who want to travel far with a toolbox behind when everything can't fit into your car boot.
4. Micro DIY camper
Get far from anything or anybody and be alone in the wild. Interact with nature and spend your nights in the micro DIY.
5. Teardrop DIY trailer
Homemade offroad teardrop DIY camper trailer with the options to explore further into nature without fear of getting stuck in the mud.
6. Composite DIY camping in the backcountry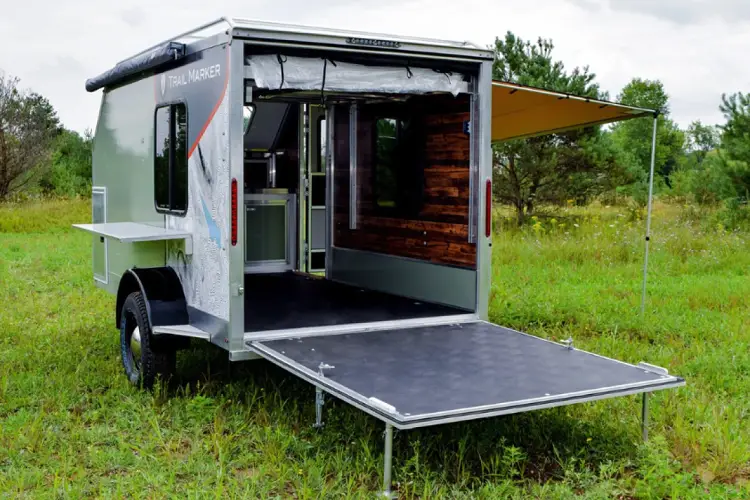 The camper can display stunning performance in twists, rugged terrain and in the fields. The doorway laid flat and supported to give a stage for relaxing.
7. Recycled pop-up trailer
Pop-up campers look great. Because the cloth sides are shortlived, while the frames are sturdy, you can easily convert to a DIY camper trailer.
8. Tiny home DIY trailer
Lightweight enough to be pulled by a four-cylinder vehicle and big enough to contain a comfortable Mobilehome
9. Offroad camper DIY trailer
This is for those who like adventure beyond the offroad and delve farther into the beaten paths to explore backroads.
10. Offroad kitchenette trailer
This ruggedly built kitchenette features sinks, two-burner cooktops, a countertop and drawers for storage under the counter
11. Backcountry camping
If your fun of relaxation in the backcountry, then heading backcountry in the DIY camper trailer might interest you.
12. Motor-cycle DIY trailer
lightweight enough to be towed by a motorcycle and handy to sleep you in for the night.
13. Birch DIY camper trailer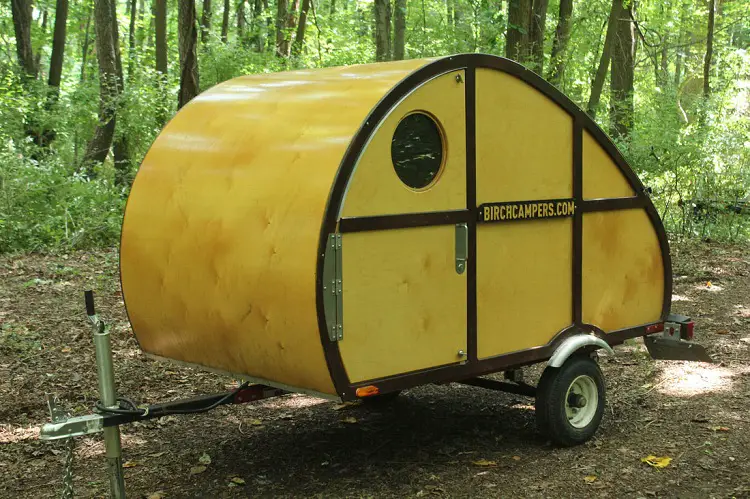 You can count on this birch DIY camper trailer to ferry your stuff and to seep you when the night falls but all under a small budget. Think about it.
14. Mini camper DIY trailer
Homemade DIY box trailer with a double bunk bed to sleep two people in such a tiny box.
15. Teardrop trailer project
Why spend more than ten thousand bucks on a DIY trailer when you can build it on your own with a fraction of that? Especially when you are a team of riding birds.
16. DIY camping trailer
Announce your camping out to the crowd with this teardrop homemade DIY designed in a budget
17. DIY virtual Fretboard
How about you take your camping to the next level with this DIY camping trailer with a fretboard and awnings. Super easy and pocket-friendly
18. DIY camping trailer design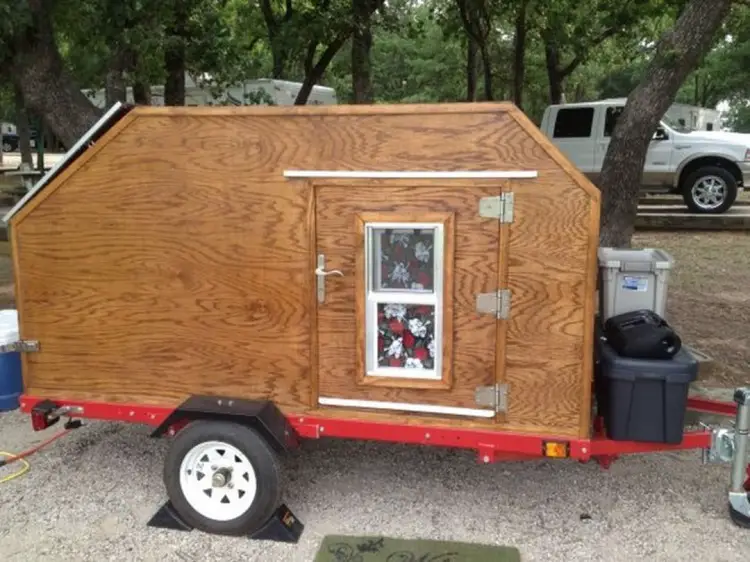 Design your own DIY with a good reason, to save on expenses and have yourself a custom made a tiny trailer that will inspire to hit on the roads again
19. Jeep Offroad kit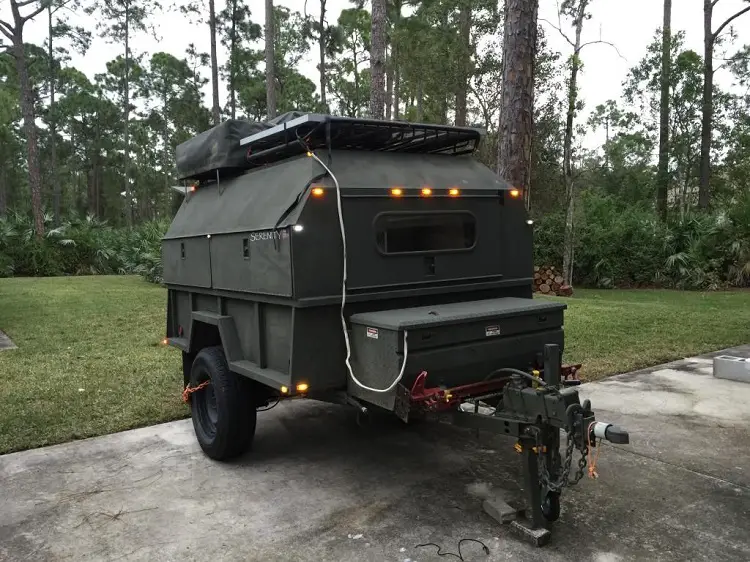 Build with expedition and sturdy for offroad adventure, decorative lights on the boards for a great sense of adventure in nature.
20. Teardrop DIY trailer project
Be proud of your tiny homemade DIY, while going green with renewable solar energy. I know it is lightweight so you don't have to worry overworking your car engine
Conclusion
DIY homemade trailers don't have to hit your pockets hard, you can do your trailer at a fraction of the amount you could spend on buying one, besides, custom made DIY trailers meets your requirements, so take a look around the selection I have made and get one that will inspire you to hit on the roads soon.